Pro-Pedophile Running For Congress Says It's 'Normal' To Have Sex With Young Girls
We live in a day and age where absolutely nothing can shock you, but this takes that to an all-time low. Meet Michael Saari the man running for Congress who says it's okay to have sex with 12-year-olds.
It's no surprise that there are a number of controversies that arise in relation to political campaigns, some of which are founded and some that aren't – however, the ongoing debate surrounding a State Senate candidate who recused himself from the 2018 elections in Michigan has caused a significant uproar in relation to a number of social media posts and comments, both recent and dating back to 2016.
The situation first came to light after Judge Rosemarie Aquilina tore into Larry Nassar for a solid 30 minutes while handing down her sentencing to the former USA Gymnastics team doctor after he was accused of molesting at least 250 young women and 1 young man dating back as far as 1992.  "I've just signed your death warrant," Judge Aquilina stated, "I find that you don't get it, that you're a danger. That you remain a danger." She sentenced Nassar to 0 to 175 years for sexual assault of minors.
While this conviction, and the way that it was presented, was not supported by everyone, with some feeling that she was too intimate and involved with the proceedings, offering her personal responses to each woman who addressed the court, it was comments made by Canton Township native and state Senate candidate Michael Saari whose comments caught the attention of the masses.
As part of a discussion in regard to the ruling, Saari wrote: "Judge was wrong for her personal vocal opinions on record… That should be a crime against jurisprudence itself… Lastly, what do you think this feminazi judge would say if her husband asked for a BJ?" The comment was met with criticism, with several observers taking screenshots of the conversation before Saari deleted his Facebook account entirely.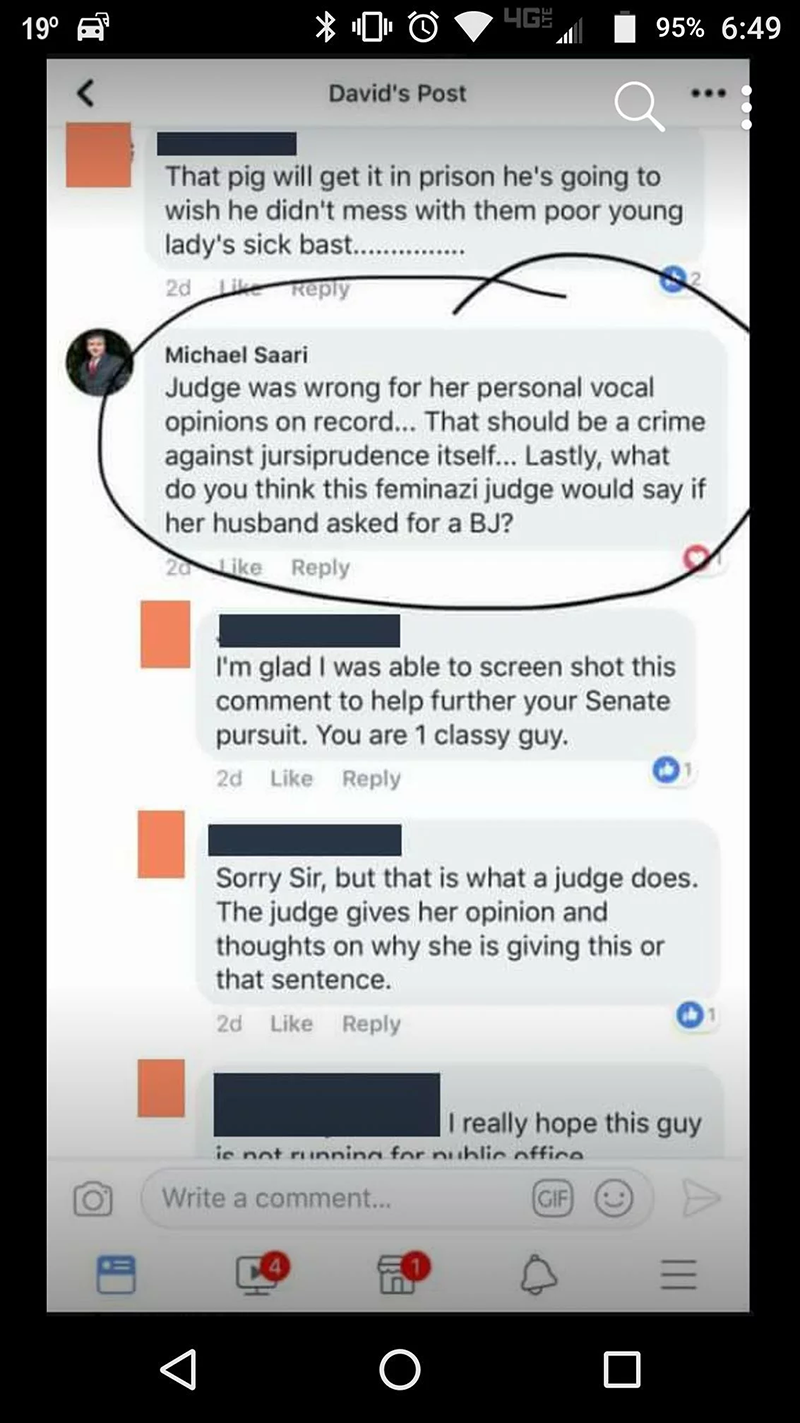 Initially, after the comments came to light Saari tried to brush the comment off, stating to WWJ in a phone interview that he posts a lot on Facebook and was unable to remember that specific comment. When they asked him directly about the use of the word 'feminazi' he attempted to end the call, saying, "Oh, I see, I gotcha. I'm going to say no comment at this time… I can't recall the post, I post a lot."  Later, in an interview with WXYZ, a local news affiliate, he admitted to the comments. He didn't, however, apologize for his actions. Instead, he stood by his criticism, saying that if he could have gone back and done it again he would have chosen different terminology.
However, as we know often happens in politics, the discovery of this particular derogatory remark led Facebook users to read through his posts, digging in hopes of uncovering whether this was, in fact, a one-off situation, or whether the Michigan businessman had made other such comments. Additional screenshots began to surface, including the following comments:
"Women don't seem to understand that from the very beginning of time men have taken young girls (Prior to periods) as wives and concubines. Even the bible talks of this so don't make it sound like men that are attracted to 12 year old girls are sick… It's you woman that can't get a grip on reality is whats sick… It's only normal and you can't change normal or a person's DNA…"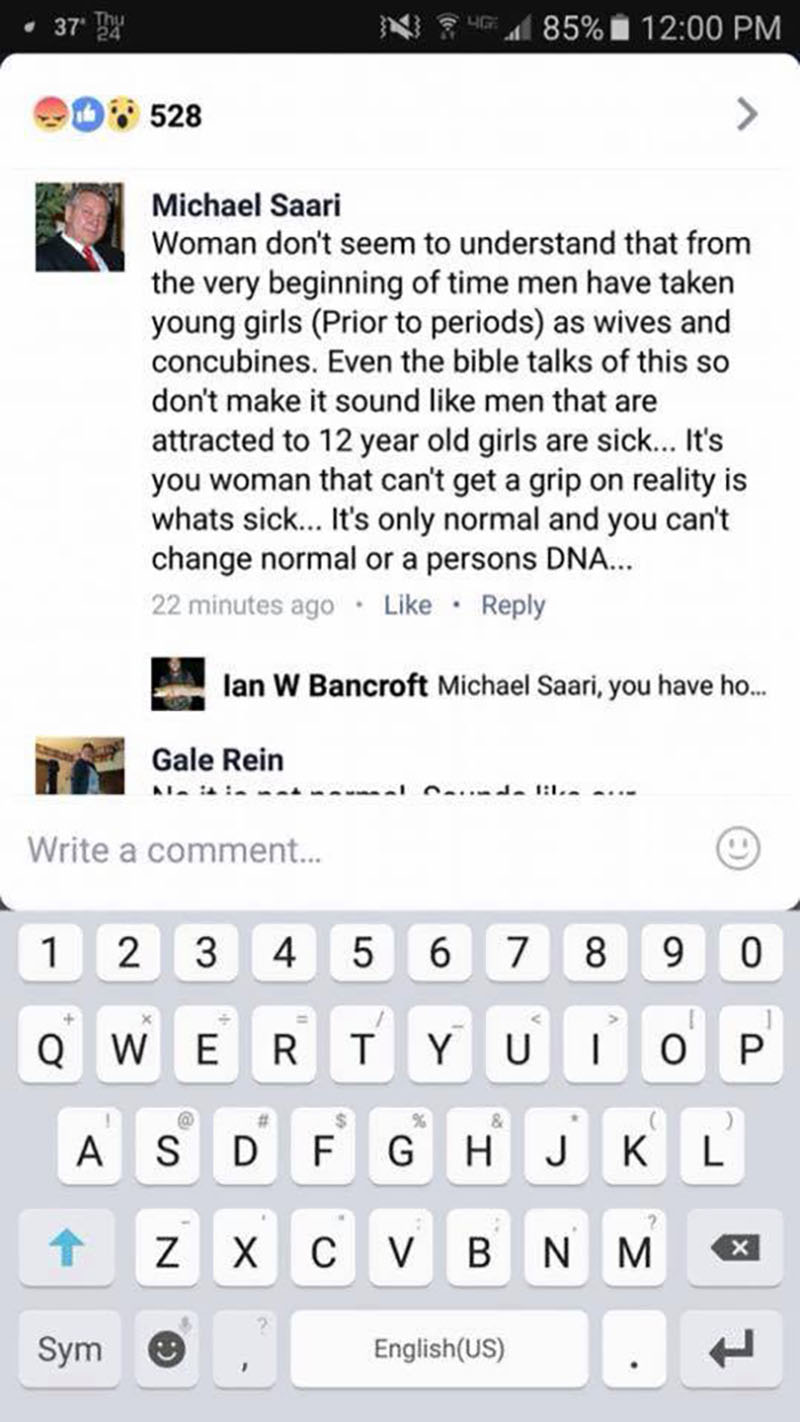 "First it was golf, then hockey, then hunting, now fly fishing? It's amazing to see ho this culture desperately struggles to imitate and shadow white people activities to allow them nothing without a black presence. I think if white people started walking around with one thumb up their ass and the other thumb in there mouth there would be plenty of blacks doing the same. Blacks simply refuse to allow Caucasians to have anything alone and without them. It wasn't that long ago America used to have small white towns only to have the blacks move in and destroy every single one of them while knowing full well they weren't wanted in the first place. Before you start going on the berserk defense, let me just end this by saying I'm not racist, just speaking some of the facts and I'm not going to get into the prison percentages of blacks, aids, rapes, etc. It's frustrating when society will not lawfully allow whites to have anything of their own without them. But blacks can have BET, Black awards, carp fishing and others."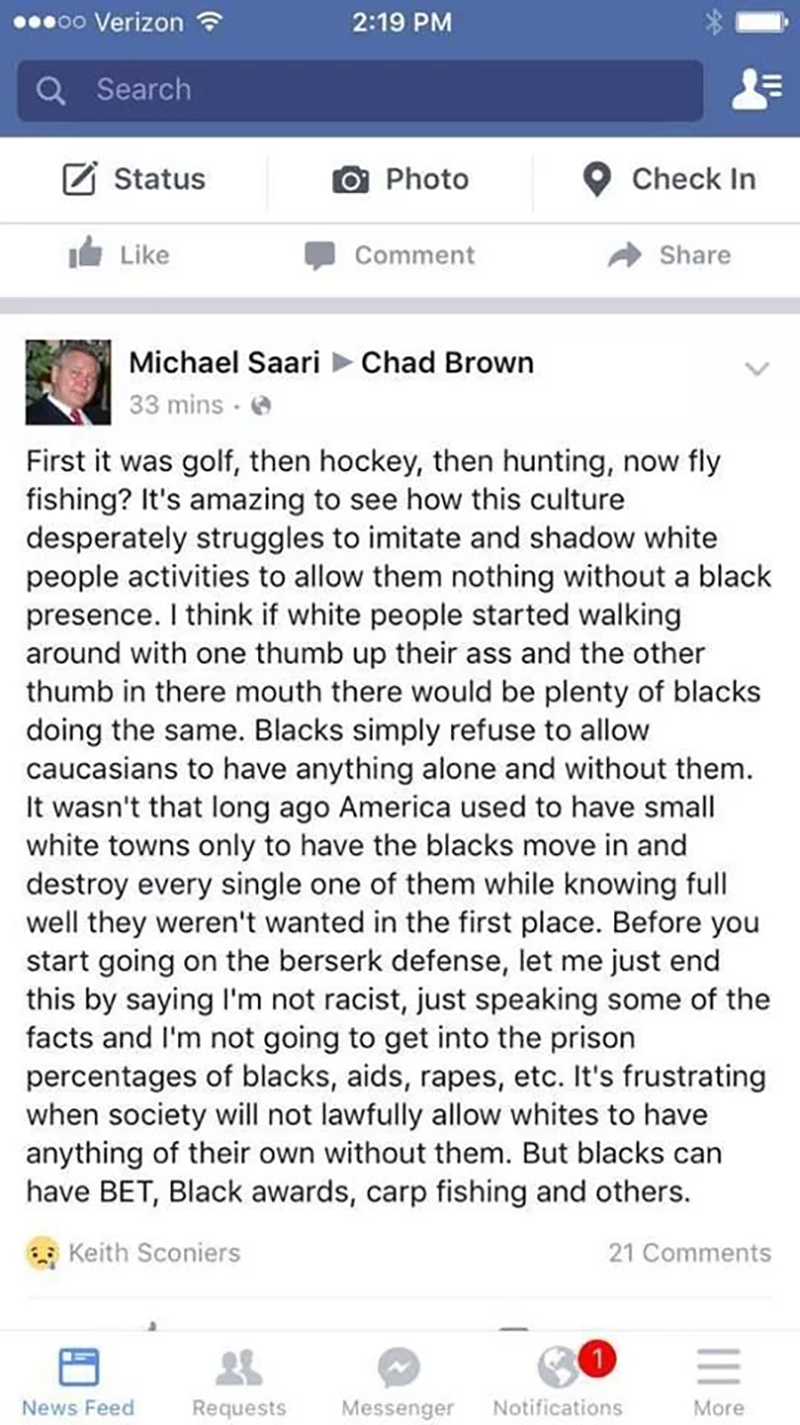 He also responded to a picture with a person of color, referring to him as a 'butler' while asking "Is that your butler holding your other fishing rod?"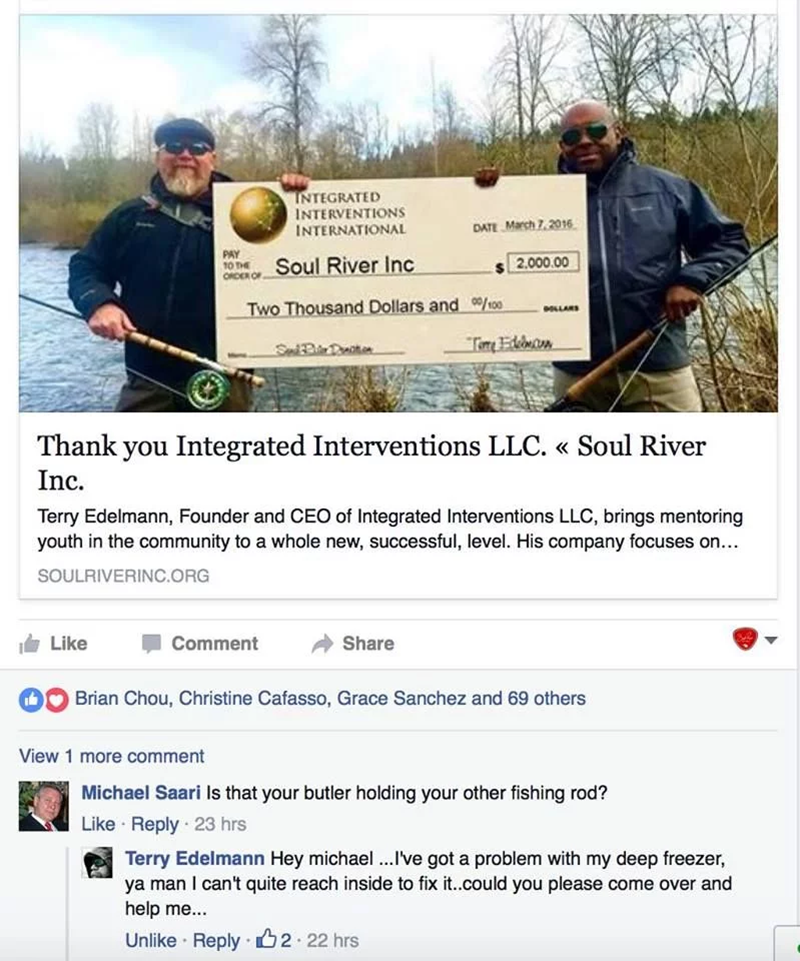 And even went as far as stating the following to a church on their Facebook page: "Our family was contemplating attending either Church of Christ or Shepherd of the Lakes Lutheran church. After reviewing website photos Church of Christ seems to approve diversity races more so than Shepherd of the Lakes Lutheran church. God gave Israel strict commandments against racial mixing (Gen. 7)…" The post continued, referencing biblical passages in an effort to show that the bible did not support racial mixing, and then concluded with: "Churches that advocate a Milato race cannot be biblically justified. I'm deeply saddened because Church of Christ in Tennessee was not so liberal for sake of parishoners…"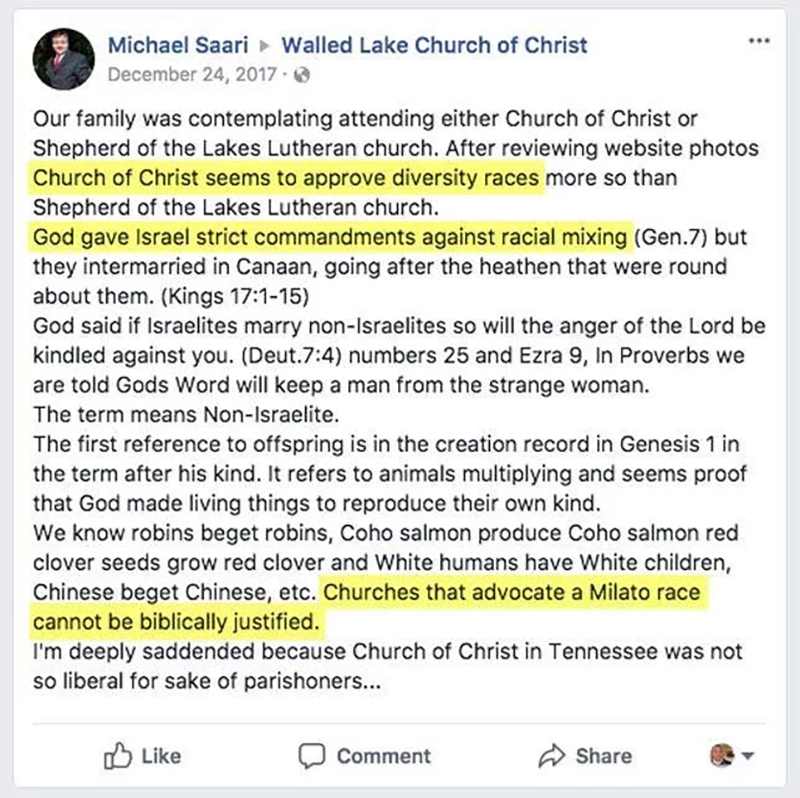 When first approached regarding these additional comments that had been uncovered, Saari argued that he had never written these words. When shown the post referencing the attraction to 12-year-old girls Saari stated that someone had fabricated the screenshots, telling the Michigan-based website Patch, "I've never made those comments. It's not my character." He has since gone on to admit that the posts are obviously real, however, he has since stated to Snopes that his Facebook account had been hacked for a period of time, during which these comments were made. He didn't, however, report this to Facebook, he explained, because the damage to his reputation and political image were already so extreme that he felt the effort to fight back was a waste of his time.
In his conversation with Snopes, he was quoted as saying, "I'm a Christian. I'm no better than a Filipino or a black person or an Indian." When asked about his view on racial mixing, he replied with, "I don't advocate racial mixing, I'm not advocating it. I've never given it a whole lot of thought." Furthermore, when asked about the right to marry a person of a different race, Saari stated, "If they're in love it doesn't matter. I don't care if they're gay, lesbian, black or white. I don't care. People have the freedom to do what they want to do. This is America."
Despite the controversy, it has been reported that Saari is back in the running. A Facebook page called 'Mike Saari for Nothing 2018' continues to share the screenshots and other information that they collect regarding the businessman. They are calling for Facebook to shut down any pages and groups in relation to his campaign and encouraging others to share information to educate the people of Michigan about who this State Senate candidate 'actually is.' No credible evidence has been brought forward regarding the alleged Facebook hack.
Featured Image Via Blue Lives Matter